PowerColor Red Dragon Radeon RX 560 14CU 4GB GDDR5
RADEON RX 560
AXRX 560 4GBD5-DHA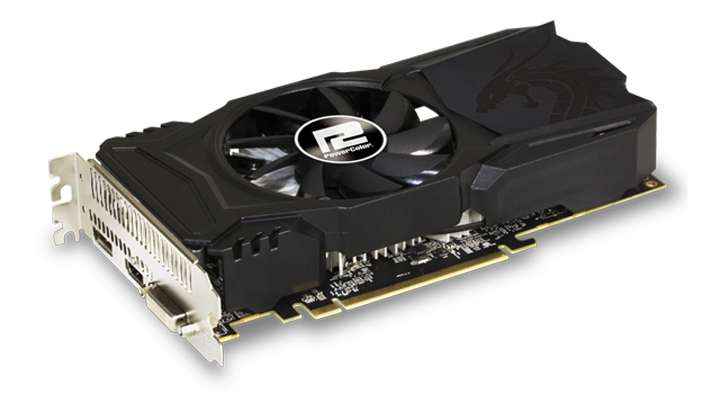 The PowerColor Red Dragon Radeon RX 560 4GBD5-DHA video card is a premium choice for hardcore gamers and VR enthusiasts. Powered by revolutionary AMD Radeon RX 560 GPU, the video card delivers unbelievably "real" VR experiences, ultra-smooth and stuttering-free graphics performance, and superior power efficiency. The included mute fan delivers excellent cooling performance while maintaining quiet operation.
Refined, Evolved and Fully Equipped
It is based on AMD's GCN 4 architecture designed for GloFo 14nm FinFET that delivers premium VR capability, increased level of performance, smooth VR, seamless support for next-gen gaming monitors and CPU-free game streaming or recording.
AMD XConnect Ready
Now it's easier than ever to connect and use an external Radeon graphics card. With AMD XConnect technology, external GPU enclosures configured with Radeon Graphics can easily connect and disconnect to a compatible ultrathin notebook or 2-in-1 over Thunderbolt 3 at any time, just like a USB flash drive – a first for external GPUs!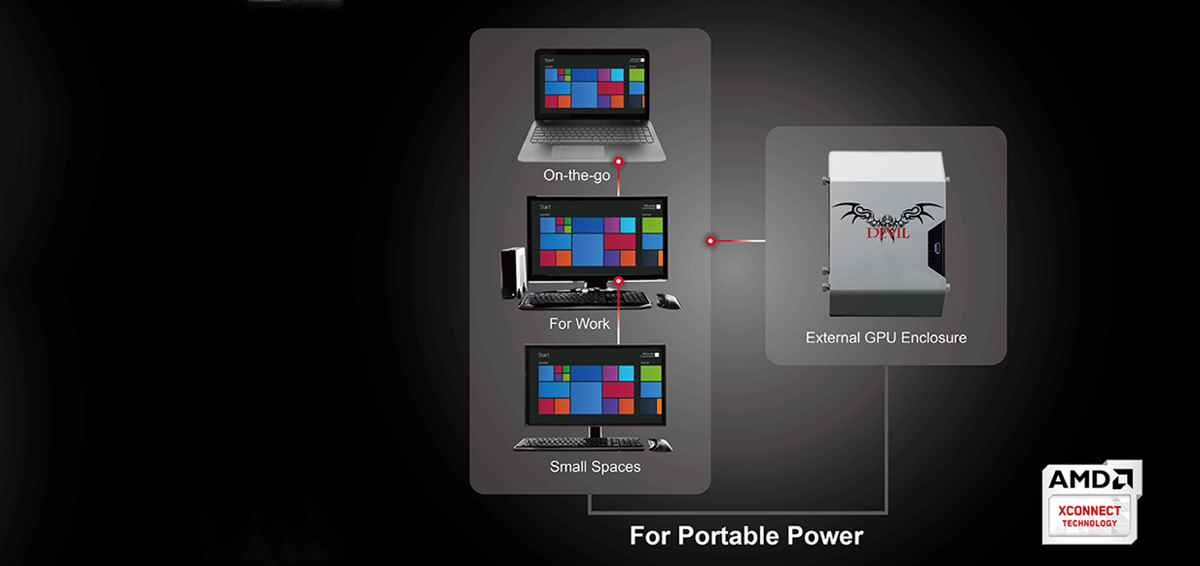 AMD LiquidVR – Intuitive. Immersive. Interactive.
AMD's innovative LiquidVR technology enables beautifully rich and immersive VR experiences by simplifying VR content creation, unlocking many unique AMD hardware features designed to work seamlessly with headsets on compatible Radeon graphics cards. LiquidVR is dedicated to making VR experiences truly immersive by creating a sense of "presence" — a state of awareness where a virtual world seems so real, you'll believe you are there.
Radeon Freesync 2 Technology
AMD FreeSync technology puts an end to choppy gameplay and broken frames with fluid, artifact-free, performance at virtually any framerate.
Virtual Super Resolution
Get quality that rivals 4K, even on a 1080p display while playing your favorite online games thanks to AMD's VSR.
Radeon Chill
Radeon Chill is a power-saving feature that dynamically regulates frame rate based on your in-game movements. Radeon Chill can improve power efficiency and can lower temperatures for supported products and games when enabled through Radeon Settings.
Radeon ReLive
Capture, stream and share your greatest moments and gaming wins with Radeon ReLive. Modify settings quickly, conveniently, and play seamlessly with the easily accessible in-game toolbar. Express yourself in bold new ways with custom scene layouts. Upload your latest highlights and let them be a conversation piece. It's never been easier to build and grow your online community anytime, anywhere.

Advanced GDDR5 Memory Technology
GDDR5 memory provides the highest available memory bandwidth of any memory technology today, enabling higher GPU performance.
GCN Architecture
A new design for AMD's unified graphics processing and compute cores that allows them to achieve higher utilization for improved performance and efficiency.
Vulkan
Next-generation API support for high-performance real-time graphics. Taking the best and brightest parts of Mantle to serve as its foundation, Vulkan is going to be one new and uniquely powerful graphics API.

Microsoft DirextX 12
Get intense gaming performance and unrivalled image quality with stunning 3D visual effects, realistic lighting and lifelike imagery.

AMD App Acceleration
AMD App Accelerator creates a "co-processing" environment in which the compute processing potential in your AMD Radeon Graphics processor works together with the system central processor, to accelerate enabled applications.
AMD CrossFire Technology
Multi-GPU support offers superior scalability. Increase gaming performance up to 2x with AMD CrossFire technology, 2.75x for TriFire configurations, or 3.75x with QuadFire configures.

AMD Eyefinty Technology
Run multiple displays from a single graphics board and expand your gaming field of view across all displays.
AMD HD Media Accelerator
Assumes rendering responsibility for HD encode (VCE)/decode (MPEG-4 ASP, H.264. MVC, MPEG2, etc.) and conclusively enables superior video playback quality with advanced hardware post-processing algorithms.

AMD HD3D Technology
Supports the latest stereoscopic 3D content and display technologies. Play 3D games, watch Blu-ray 3D videos, and edit 3D photos on your 3D Monitors, TV, or projector.

AMD PowerPlay Technology
AMD PowerPlay Technology dynamically adjusts clockspeeds in response to GPU load, saving power for just when you need it.

AMD PowerTune Technology
AMD PowerTune Technology maximizes performance under load conditions by dynamically increasing the GPU engine clock to take advantage of unused TDP headroom. Also allows users to configure their own TDP limit, within a provided range, for even higher performance or more power efficiency.

HDMI
Integrated high speed HDMI output with 1080p 120Hz 3D Stereoscopic support, and 4K resolution display support.

Microsoft Windows 7/10 Support
Comprehensive OS supports the latest Windows 10/7 functionality and Driver support. (Some products only support 64bit OS, please visit powercolor official site for details.)
Mute Fan Technology
Mute Fan Technology provides noiseless environment and reduces the power consumption when the GPU temperature is lower than 60°C.

PCI Express 3.0
It delivers double the bandwidth per lane of PCIe Gen 2 for faster GPU.

UEFI Support
Better security by helping protect the pre-startup – or pre-boot – process against bootkit attacks and faster startup times and resuming from hibernation.