WiFi 6: The Fastest WiFi Ever
With WiFi 6, you get the fastest speeds available, and up to 4X more device capacity than WiFi 5. Stream in ultra HD 4K/8K, video call, and more without getting interrupted or slowed down, even as you connect more devices to your network. It's like upgrading your WiFi to first class.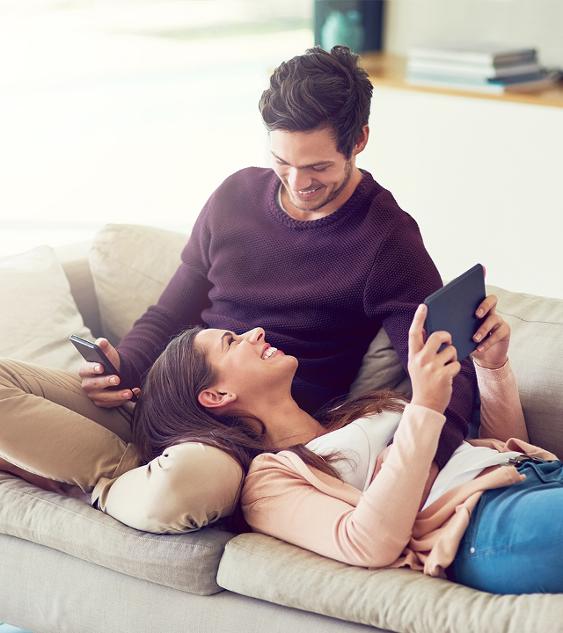 Fast Streaming on Your Mobile Devices
Stream at Gigabit speeds to supported mobile devices with the 160MHz channel
NETGEAR Armor
NETGEAR Armor cybersecurity keeps your network and private data safe from online threats, at home and on the go. One subscription protects an unlimited number of connected devices, from phones and laptops to thermostats and security cameras.
NETGEAR Armor is even better with new features like Anomaly Protection, Brute Force Protection, Exploit Prevention, Sensitive Data Protection and more.
LEARN MORE ABOUT ARMOR EXPLORE NEW FEATURES
CONNECTED KIDS ARE PROTECTED TOO
NETGEAR Smart Parental Controls
Managing your kids' time online has never been easier. No need to take away any devices – with just a few taps, you can build profiles for each family member, pause internet on devices, and so much more*. Start building healthy online habits today.
*Some features require Premium Subscription. Get a 30-day free trial; no credit card required. $7.99/month or $69.99/year after end of trial.
LEARN MORE
Get ultra-fast wireless speeds for better 4K UHD streaming, gaming or video conferencing experience. Increase the performance for all your smart home devices even when your family is busy streaming videos or uploading media files during the Internet rush hour.
2.5X better performance than an AC Router‡ with up to 3Gbps† for blazing fast wireless speeds
Triple 1.5GHz processor ensures smooth 4K UHD streaming
160MHz channel support*** doubles the speeds as offered by 80MHz channels to provide Gigabit speeds for compatible mobile devices and laptops
4 Gigabit Ethernet LAN Ports connect more wired devices for faster file transfer and uninterrupted connections
Simultaneous Dual-Band WiFi provides a reliable, dedicated WiFi network without any network congestion
Additional DFS channels reduces interference from neighboring networks
Better range throughout small to medium homes with with 2 external antennas